Hello, again everyone! :o)
I have put together another one of my famous Hello Kitty Goodie Bags! This bag contains everything from keychains (one of them plush), stickers, a wallet, Band-Aids & other neat things! Altogether there is 10+ items -- a $34.00 value! A perfect buy for any Hello Kitty/Sanrio collector. Please click the link below to see a picture & a list of the items included: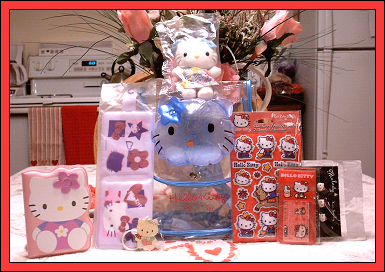 Goodie Bag Contents:

- Hello Kitty Blue & Clear Inflatable/Vinyl Backpack -- BRAND NEW!
- Hello Kitty Lavender Wallet with Glitter & Heart accents -- NEW IN PACKAGE!
- RARE Hello Kitty-shaped Address Book -- BRAND NEW!
- Hello Kitty Plush Keychain in Silky Blue Floral Dress -- NEW IN PACKAGE!
- 2 Sheets of Hello Kitty "Cowboy" Theme Puffy Stickers -- NEW IN PACKAGE!
- Hello Kitty Pack of Band-Aids -- NEW IN PACKAGE!
- Hello Kitty RARE "Glittery Glam" Keychain -- NEW IN PACKAGE!
- Hello Kitty Hair Charms -- NEW IN PACKAGE!

All items are simply ADORABLE! Great buy! :o)

Now, onto the price; as with most of the items I list, I don't have a set price. If anyone is interested in owning these goodies, please feel free to make me an offer that you think is appropriate. (Please keep in mind the time I have spent to put this together & the fact that it is a $34.00 value.)

Shipping & handling will be $5.00 (because of the weight & the money I have to spend for packing materials). Unless you live outside the US, in which case you'll have to let me know & I'll look into shipping prices for your area.

Payment options: I accept money orders & well-concealed cash as payment ONLY. Comment and/or e-mail me if you're interested! (:

E-mail addy: Brunettebullet@aol.com.

Thanks & <3's!